We recently explored the benefits of outsourcing an SBA department back-office in 3 Reasons to Outsource Your SBA Department to a Lender Service Provider.  Outsourcing to a Lender Service Provider (LSP) allows lenders to create an efficient and effective SBA and USDA program without many of the quantitative or qualitative risks associated with implementation and scaling-up.
If you've made the decision to partner with a Lender Service Provider (LSP), completing your diligence utilizing the following framework will help you to choose the right LSP for your company and ensure that the LSP is qualified.
We've structured this diligence process similar to "Maslow's Hierarchy of Needs" with the most critical and systemically important requirements at the bottom.   If at any stage an LSP does not meet your requirements, you should discontinue diligence and explore other options.   There is no need to continue diligence as each step builds on itself to ensure a healthy and successful partnership.  As you move up the hierarchy, the requirements becomes more nuanced, but still equally important.

Figure 1.0 – LSP "Hierarchy of Needs"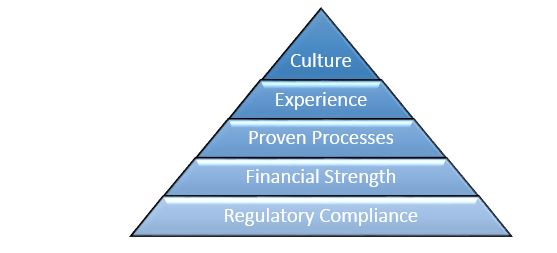 Step 1: Regulatory Compliance
This should be your first area of focus.   The security and confidentiality of lender and borrower information is critically important.  An LSP must design every aspect of its processes with a focus on controls and compliance.  To ensure information security and confidentiality, the LSP must have:
Information Security Program- Including comprehensive Information Security Policies and Business Continuity and Disaster Recovery Plans;
Third Party Testing including SOC Audit and Network Vulnerability Assessments (with Penetration Testing); and
Regulatory Oversight Plan
Because Lender Service Providers provide services to insured depository institution clients, they may be subject to oversight under the Bank Service Company Act.  For these LSPs, an IT examination is conducted by Federal Banking Regulators in accordance with Federal Financial Institutions Examination Council (FFIEC) guidelines.    Examined LSPs will have a regulatory oversight plan and you will be able to access their most recent regulatory examination through your primary regulator.
This increased level of oversight under FFIEC guidelines, in addition to a strong Information Security Program and third party SOC audit, may provide lenders with additional comfort with the LSP's regulatory compliance.
Step 2:  Financial Strength
A lender should review the financial strength of the LSP with a focus on continuity and sustainability.   The financial review should include at least the following areas:
Profitability – Review the P&L or tax returns of the LSP for the past several years;
Insurance Coverage – Review the insurance coverages of the LSP with particular focus on the amount of Professional Liability/E&O insurance and the AM Best rating of the carrier. A well-structured risk management program would require $3.75 million of coverage (equal to the maximum guarantee amount of a standard 7(a) loan) from an "A" rated carrier; and
Liquidity – Ensure the LSP has adequate liquidity to properly manage its business
The goal of the financial strength analysis is to ensure the viability and sustainability of your LSP.   Continuity is a benefit of using an LSP.  This component of diligence provides a lender with comfort of the LSP's continuity by ensuring strong historic financial results, high insurance coverage levels and adequate liquidity.
Step 3: Proven Processes
The LSP must have proven and documented processes for all areas of its business.   Processes and controls should include the following functions:
A lender should obtain the LSP's documented policies and detailed procedures for each of the above functions. Additionally, each process must include defined and implemented controls that mitigate risk across the entire system to ensure minimal residual risk.  Expected timelines for each of the functions should be clearly defined by the LSP.
The LSP should also provide "best practices" templates such as Loan Applications, Credit Approval Memos and Annual Review Forms.   It is not necessary to use these documents, but they can provide lenders with valuable insight into SBA requirements and documentation that has been successful in the market.
Step 4:  Experience
Now that you have a detailed understanding of the lender service provider's compliance, financial strength and processes it is critical to analyze the experience of the people providing the services:
Employees – Analyze the # of employees, roles in the organization and experience levels with a focus on continuity, backups and depth at each position.
Loans Statistics (Processed, Closed, Serviced, Liquidated) – Understanding the historic volume and experience of a LSP allows you to meet your needs now and as you grow.
Results – This should include Processing (Screen Outs), Servicing (On-Time and Error-Free 1502s) and Liquidations (Repairs and Denials)
Step 5: Culture
This is the most nuanced of the diligence criteria.   Each lender will have qualitative attributes that it values in a partner.   Some areas that should be reviewed are the LSP's:
Core values – These are the guiding principles of a company. When they are clear, they attract like-minded people to the organization and define the culture of the organization.
Differentiators – This is what makes the LSP different from its competitors. These are the qualities that make the company unique to the ideal customer.
The compatibility of the culture of the lender service provider with the culture of your company will, in large part, determine the success of the relationship and ultimately the success of your SBA 7(a) program.  It's important to like, and respect, the people you work with, so the importance of this most nuanced step can't be overstated.
The culture of the LSP should be reflected in the overall reputation of the organization.   Request at least three references.  Prior to the calls, be sure to list out the most important questions and ask these same questions of each reference. Notice themes across these discussions.
Final Step:  Making the Right Decision on a Lender Service Provider
It is critical that you conduct comprehensive diligence on a lender service provider to ensure the viability and sustainability of the organization.   Compliance and financial strength are the foundation.   Proven processes must be used consistently and performed by experienced and thoughtful staff supported by a deep bench of talent within the LSP team.   And finally, a cultural fit between the organizations is critical.
Utilizing these 5 easy steps will ensure that you have completed comprehensive diligence and that you choose the right LSP to ensure the long-term success of your SBA initiative.
About Windsor Advantage, LLC
Windsor Advantage is a Lender Service Provider that provides a comprehensive outsourced SBA and USDA loan department to lenders nationwide.  Services are provided on a variable cost basis with no minimum volume requirement.  Windsor also provides continuing training and technical assistance to lenders at no cost.  Since 2010, Windsor has processed more than $1.4 billion in government guaranteed loans and currently services a portfolio of more than $1.1 billion in loans for more than 70 banks across the US.  Windsor Advantage is based in Chicago, Illinois, with offices in Indianapolis, Los Angeles and Charleston, SC.  For more information visit WindsorAdvantage.com.
About the Author:  Shawn is the Managing Director of Windsor Advantage. He has nearly 20 years of financial services experience. Prior to founding Windsor in 2010, Shawn was Managing Director and equity partner of a $600 million debt fund with a focus on SBA lending and asset-based lending. While at the fund, he led the acquisition of one of the 14 SBA Small Business Lending Company (SBLC) licenses.