In South Carolina, small businesses represent 97% of the state's employers (Source: SBA Office of Advocacy).  Shawn Andrews, Managing Director of Windsor Advantage, recently had the opportunity to speak at the City of Charleston's "Access to Capital" roundtable held at the Gaillard Center on November 1, 2017.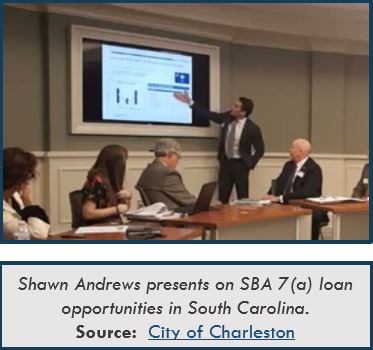 Mayor John Tecklenburg and South Carolina District SBA Director R. Gregg White assembled a diverse group of small business lenders, advocacy groups and loan service providers to discuss the various programs that exist to assist local entrepreneurs.  Cindi Rourk from the Charleston Local Development Corporation and Peter Shand from the Business Development Corporation gave interesting presentations on alternative financing options aimed to increase awareness among this group of small business advocates.
The roundtable made an impact on all those in attendance and left our team with 3 interesting takeaways about the SBA 7(a) Loan Program in South Carolina:
1. Significant Increases in 7(a) Volume
William Furman, Senior Area Manager for the SBA, gave an "SBA by the Numbers" presentation on loan volume in the state of South Carolina, which included highlights of a 44% increase for the entire state, while the Tri-County Area (Berkeley, Charleston and Dorchester) experienced a 167% year-over-year increase for FY2017.
2. Large Hospitality Concentration
In FY2017, South Carolina ranked #2 in the country for the average 7(a) loan size at $694,000, which can be attributed to the large dollar volume authorized to hotel borrowers.  Hospitality lending in South Carolina ranked #7 in the country for the year and generated more than a 30% share of the total volume in the state.
3. Opportunity for In-State Lenders
Lenders headquartered in SC authorized $23 million in 7(a) loan volume for in-state borrowers during FY2017. While total volume in the state ranked #22 in the country at $358 million, lenders headquartered in SC ranked #45 nationally in total volume.  Only 5 in-state lenders authorized more than $1 million in 7(a) loan volume for local small businesses in FY2017.
South Carolina's continuing economic growth depends on the success of small business entrepreneurs and the SBA encourages owners to take full advantage of all available resources.  Information on starting, running and growing a business, as well as a listing of partner resources, can be found here, in the SBA Small Business Resource Guide for South Carolina.
About Windsor Advantage, LLC
Windsor Advantage provides banks and credit unions with a comprehensive outsourced SBA 7(a) and USDA lending platform.
Since 2010, Windsor has processed more than $1.6 billion in government guaranteed loans and currently services a portfolio in excess of $1.2 billion (as of October 31, 2017) for more than 75 lenders nationwide.  With over 150 years of collective government guaranteed lending experience, cutting-edge technology and rigid controls, Windsor Advantage is uniquely qualified to assist clients with implementing a thoughtful and profitable lending initiative.
Windsor Advantage has a team of 30 professionals with offices in Charleston, South Carolina; Chicago, Illinois; and Indianapolis, Indiana.  For more information, please contact (312) 248-8530.

Follow @WindsorAdv2010
About the Author:  Andrew Sheaffer manages Windsor's Sales & Marketing department.  He graduated from Miami University (OH) with a degree in strategic communication.  Previously, Andrew worked in Chicago at BMO Harris Bank where he worked with financial institution clients.  Now based in Charleston, he is responsible for all media relations and can be reached at (312) 248-8530.